Enjoying activities our residents have always loved.

The perfect place to call home.

Family is a big part of life at Parkcliffe.

Outings and Activities both on and off-site.

Opportunity to socialize in a caring, supportive environment.

Activities tailored to individual interests.

A place for our veterans to call home.
Parkcliffe Memory Care and Assisted Living Community:
Bringing life to each day for every resident.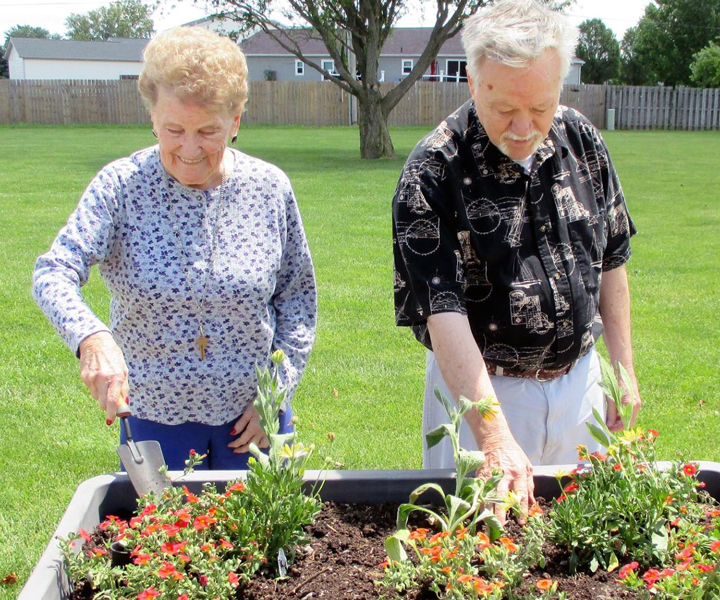 At Parkcliffe, we are committed to maintaining your loved one's sense of independence and unique life history.  We are experts in care for Alzheimer's and Dementia, and we work together with our residents and their families to rediscover personal interests and participate in daily activities that they've always enjoyed.
"This was absolutely the best place for my dad. They not only cared for him but they cared about him."
"My brother lives there. He's happy and the staff is amazing!"
"My mom called this home for a little over six years. She was very happy here and I loved the support staff."
"The kindest, most caring staff you could ask for! You get the highest recommendation from our family! Truly no other place like it in Toledo."
"My mom- in- law lived at Parkcliffe for 2 years…love this place. Wonderful staff to be with and also enjoyed a variety of activities there."
"My Pops was here for the last couple years of his life. The respect they bestowed upon him was absolute and purposeful!"
"My mother was at Northwood location. She very content and smiled all the time. They were fantastic."
"Such an outstanding place …can't thank you enough for the care my Dad had while living there. It's about the life of individuals with dementia and Alzheimer's….such wonderful staff that truly care about the quality of life."
"We appreciate ALL you do for our loved ones AND these extra fun things to do along the way. We truly appreciate each and everyone one of you!"
"Great place great people!!!"
"Highly recommend Parkcliffe!! My grandmother is thriving there!!"
"A wonderful place to live! I wish my mom would have moved there sooner than she did. The caretakers are very special too!"
"Those Parkcliffe ladies loved my Dad and cared for him as if he was their own. I miss each and every one of you!"