Memory Care
Loving and Unique Environment
Understanding Alzheimer's and Dementia is key to working effectively with our residents.  At Parkcliffe we are experts and we genuinely care about the people we serve.  We get to know our residents and develop daily activities and routines that are familiar and comforting, in a physical environment that was designed specifically for people with Alzheimer's and Dementia. 
A Community Designed for Our Residents
Neighborhood setting that's comfortable and familiar- creating a feeling of being at home
Unique floor plan that intentionally, comfortably and sensibly guides residents through everyday activities
Designed to encourage recreational and social activity, allowing spontaneous and lively interactions among residents, staff, and family members
Residential style kitchens available for both residents and family members to enjoy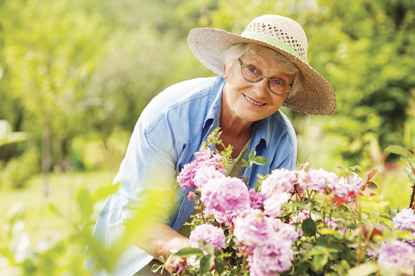 Bringing Life to Each Day
Residents enjoy a variety of activities, and typically thrive in this friendly and welcoming community of caring staff and other residents with dementia and Alzheimer's disease.
On-site activities tailored to renew and maintain individual interests including: Gardening, cooking, household activities, crafts, workbench, card games, light exercise, ice cream socials, art class, music, pet therapy and other activities based on each individual's interests.
Off-site activities include: Local sporting events, restaurant outings, park visits, art museum tours, zoo trips, shopping trips, concerts, play rehearsals, and much more
Levels of Care
Each Parkcliffe building is designed and staffed to accommodate the level of care needed by the residents living there.  As our residents progress and their needs change, our staff recognizes the signals that indicate the need for more assistance.
Shared living provides a secure home for those individuals who live independently but may need occasional assistance with daily living activities, such as bathing, mobility, eating, and self-administering medication. Assisted care for those who can live independently but may require assistance with activities of daily living
Personalized dementia care provides specialized assistance and offers unique programs based on social, cognitive, and functional assessments with care tailored to personal needs
Residents receiving advanced care live in a building designed to meet their special needs while surrounded by specially trained staff who offer comfort care, medication administration, nursing care, and end-of-life support.
"Great place great people!!!"
"This was absolutely the best place for my dad. They not only cared for him but they cared about him."
"My mother was at Northwood location. She very content and smiled all the time. They were fantastic."
"My Pops was here for the last couple years of his life. The respect they bestowed upon him was absolute and purposeful!"
"My mom called this home for a little over six years. She was very happy here and I loved the support staff."
"The kindest, most caring staff you could ask for! You get the highest recommendation from our family! Truly no other place like it in Toledo."
"Those Parkcliffe ladies loved my Dad and cared for him as if he was their own. I miss each and every one of you!"
"Such an outstanding place …can't thank you enough for the care my Dad had while living there. It's about the life of individuals with dementia and Alzheimer's….such wonderful staff that truly care about the quality of life."
"A wonderful place to live! I wish my mom would have moved there sooner than she did. The caretakers are very special too!"
"Highly recommend Parkcliffe!! My grandmother is thriving there!!"
"My mom- in- law lived at Parkcliffe for 2 years…love this place. Wonderful staff to be with and also enjoyed a variety of activities there."
"My brother lives there. He's happy and the staff is amazing!"
"We appreciate ALL you do for our loved ones AND these extra fun things to do along the way. We truly appreciate each and everyone one of you!"